Restaurant Review: Sandbad's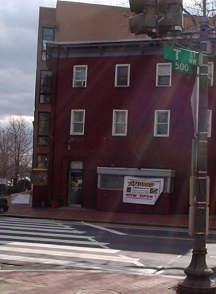 Sandbad's Chicken and Kebob House at 600 Florida Ave has been open only a week and they are still trying to find their way around a bit as contractors, residents and passers by check them out. Sandbad's is more of a carry out with tables and chairs, than a restaurant. Food is served in carryout containers and the utensiles were plastic. The cloth covered tables mainly serve as a place to wait while the cook in the back fills your order. Fast food this is not, but possibly in the future they might find a rhythm and speed it up a bit.
They had a buffet available, sadly there was nothing clearly stating what were the different things were and their prices. The buffet included a salad, vegetables of some sort, soup, and a meat.
I chose a familiar favorite, the gyro. Maybe because they've only been open a week they may have underestimated what they needed because the gyro was fine, but didn't have the needed tzatiki sauce and a gyro isn't as good with out it. The meat in the gyro was big and had just enough spice to it and the onions and peppers were nicely grilled. But still I really wanted the tzatiki sauce.
I also got a leg of chicken. It was very tender, but a little bland. It needed something, but I don't know what.
Maybe in about a month they'll improve a bit, well I hope by then they'll have the sauce.
Sandbad Chicken and Kabab House. 600 Florida Ave NW, Washington DC 20001. 202/232-1165. M-Sat 11AM-10PM, Sun 11AM-9PM. Free Delivery